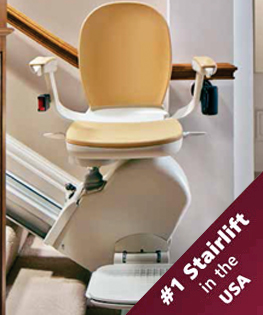 2011 Testimonial from John Dich
I have always found Stair Rider service to be of the highest quality. All of the staff is attentive to our needs. If a service is required, we have found them to be the most prompt, dependable, honest & courtiers.



2011 Testimonial from Janet

"Thank you for your prompt attention. I'm glad I chose your company out of the ones I had looked into. Your professionalism and knowledge was appreciated."

Stair Rider stair lifts stair chair Stair Rider - Stairlift stairlift acorn stair lifts chair lifts Acorn Stairlift Solution Stair Rider StairRider stairlifts handicapped lifts
• read more

Should you choose a New or Reconditioned / Used Stairlift?


There are several points you should consider when deciding whether to purchase a new stairlift or a reconditioned / used stairlift. Below are a few factors that could help you make up your mind:

Advantages of New Stairlift

Manufacturer warranty provided with each stairlift.
Parts readily available, as the stairlift is still current.
After-care - ie, support provided by the stairlift vendor.
New stairlifts can be built tp specification, adapting to the users specific needs.
Disadvantages of New Stairlift
More expensive than used stairlifts - often substantially.
A curved stairlift could take 3-10 weeks depending on the level of customization required.
Curved lifts tend to require more service over time due to their complexity.
Advantages of Reconditioned / Used Stairlift
Used stairlifts are usually much less expensive than an equivalent new stairlift.

Advantages of Reconditioned Stairlift

A reconditioned stairlift will not devalue over time to the same extent as a new stairlift, so reconditioned stairlifts as a temporary fixture may be a better investment than an equivalent new stairlift.
Disadvantages of Reconditioned / Used Stair lifts
Used stair lifts have less warranty than new stairlifts - sometimes none, depending on the reseller.
You will require a used stairlift to "match" the shape of your stairs, which can make it harder to find a suitable lift.
Used and reconditioned stairlifts are more likely to need a service, depending on the model and the reconditioned - at Stair Rider, we resell only the most reliable brands, making it less likely you will encounter problems.
Spare parts may be harder to come by if the model is no longer made - local dealers may be unable to support the stairlift long-term for this reason.
A used lift will require a match with your specific needs..
- side of the stairs
- length of track
- users physical size and capabilities

For more information on any of these features, or for a free no obligation quote - Contact us
Stair Rider offer advice on the best type of stairlift for your particular situation. Our customers range from those recovering from serious injuries, those with permanent disabilities and elderly citizens who are finding it increasingly difficult to navigate stairs in their home. Whatever your situation, a stairlift could be the answer.